Talking About Our Books
Remembering Soumitra
Legendary actress Sharmila Tagore, noted filmmaker Catherine Berge in conversation with Murmurs author Amitava Nag.
Letter to Myself Adda
Artists Mithu Sen, Indranil Garai and Piu Mahapatra, author-poet Amitava Nag and Blue Pencil Editor Antara discuss Piu's unique book of postcards.
Were Wonders
Trishna Saha, author of The Abandoned Fighter (Book #1 in WERE WONDERS Series), and Editor Lopa Banerjee.
Publishing & Promoting Your Book was Never Easier!
6 Quick and Affordable Steps
to Create and Promote Your Dream Book
Editing & Proofreading
Book/article/research paper
Sharply focused, press-ready copy
Consistent style, punctuation, grammar, tone, voice, and sentence structure
Fix typos, formatting issues, extra spaces, etc.
Attractive Book Cover
Beautiful, appealing cover that conveys the essence, subject, and tone of your book
Ignites curiosity. Encourages the casual surfers to delve deeper
Print Book, eBook Design
& Publishing
Appealing PDF layout to help you self-publish your paperback/ hardbound book
Publish online as a Kindle, Apple Books, and Kobo book
Publish your print book
Layout Design
Amazing layout designs for:
Novels, poetry books, fantasy fiction, biographies
Coffee table books
Product launch, event brochures
Corporate journals, alumni memoirs
Catchy, Unique Illustrations
Unique, custom illustrations and artwork for children's books, novels, fantasy fiction, poetry
Realistic / semi realistic / cartoon / caricature / stylish illustrations
Promotional Posters/Flyers
Promote your book on social media (Facebook, Twitter, Instagram, Pinterest, WhatsApp) and electronic media with marketing collaterals:
Banners
Posters
Pamphlets
Not Sure Where to Start?

01
Get Your
Manuscript Ready

02
Send Us
3 Sample Chapters

03
Talk To
Our Expert Editors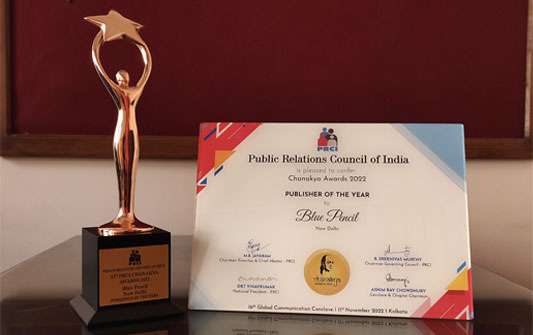 Winner of PRCI's
Chanakya Award 2022
'Publisher of the Year'
What is Blue Pencil?
Blue Pencil is a venture of two hugely popular twin magazines Learning and Creativity and Silhouette Magazine. Blue Pencil is powered by the digital solutions leader Wisitech. And this joint venture gives Blue Pencil an edge like no other with super specialization in manuscript assessment, editing, design, layout, online marketing, digital promotion and more.
We have helped everyone from budding authors to established and renowned authors reach out to their readers with a full spectrum of solutions under one roof. Our team consists of highly experienced editors (several are well known authors in their own right), designers, digital marketers and eBook programmers.
Stop waiting for traditional publishing to pick up your book
Build it
Publish it
Take it to Market
Have full control in your hands!
Testimonials
A Partner in Progress
Ramendra Kumar, Rourkella, India
My first book of non-fiction – 'Effective Parenting' : A New Paradigm' was published by  Blue Pencil.  Team BP was with me during every stage of the book  –  editing, layout, design  and marketing.  In fact the idea   of interspersing  snippets into the book in the form of  'Parenting Pointers'  came from the editor. Putting up of the print and kindle editions of the book on Amazon was seamlessly done by the  publisher.
However, the most fulfilling and enriching experience were the interventions unleashed by the publishers  after  the launch of the book. I reached out to my readers through workshops and interaction sessions across the country and each initiative  of mine was showcased beautifully on LearningandCreativity.com. Team Blue Pencil also came out with a unique idea of  compiling the best  quotes from the book in the form of  'Parenting Mantras' and shared them on social media.
Blue Pencil to me was never just a publisher – it was a partner in progress    
Made My Dream a Reality
NS Rajan Go West Odyssey: How I Saw America in 19 Days
I am fond of writing. Ever since the early 1950s during my days at college, beginning with my contributions to our college magazine, I have been writing short pieces, stories, essays on Hindi film music and travel, and I now write regularly for my blog. But, a secret desire that I had cherished to turn into the author of a 'book' remained a distant dream.
Antara Nanda Mondal, of Blue Pencil and her faith in my writing made that dream a reality. She saw a 'Travel book'  in my long story narrating my experiences and observations during my trip to America. With great zeal, persevering with me and driving me during long hours and days spent in editing and coming up with ideas to enhance the looks and feel of the book, Antara and her dedicated team at Blue Pencil worked to produce an illustrated 'Coffee Table Book' out of my spiral bound manuscript. The final elegant and eye-catching look of the book with its blue motif took my breath away.
Antara, personally and patiently, pored over hundreds of pictures to select about 200 of them to be featured in the book, raising the level of the book considerably, when all that I was expecting was a 'Paperback' without any pictures.
Her team at Blue Pencil, particularly Kriti Mishra and Anurag Negi with whom I had occasion to interact, is all that a writer may expect with support and guidance at every stage backed up by quality work and results.  Blue Pencil's efforts post publishing are equally commendable.
If I happen to write another book, I hardly need to look beyond Blue Pencil.
I Received Help at Every Stage
Dr Koshy AV Assistant
Professor English
Department Jazan University
Kingdom of Saudi Arabia
I am very happy with the services offered by Blue Pencil regarding our Kindle edition Wine-Kissed Poems by Dr Koshy AV and Jagari Mukherjee. I received help at every stage and also was satisfied with how the cover came out, which helped largely with its success, and how it looked on an iPad. Heavenly. I was also satisfied with the quick willingness on the part of the team to make changes I wanted during the editing process. The final product by becoming a bestseller on Amazon for ten days running in the Kindle Paid category and in the top 50 consistently in Books is already legendary, along with its being featured consistently in Hot New Releases. As a result, I am now certain that for kindles I will stick to Blue Pencil everytime and others should come to them too.

They Simply Outperformed
HQ Chowdhury, Dhaka, Bangladesh
The support that I received from Blue Pencil throughout the publishing process was exceptional. They simply outperformed. The steps involved to complete such a project are enormous. I am grateful to them for the help and proud of the product that we accomplished together. My book looks just great! What an experience! Today, I am a very happy author!

Fabulous Job Proofreading
Dr Salil Goel IIT, Kanpur
"Antara and her team at Blue Pencil did a fabulous job proofreading our book draft. The Blue Pencil team is extremely cooperative, quite responsive, and addressed all of our concerns. We are quite satisfied with the work and would definitely engage Blue Pencil again."
Talk To Our Publishing Consultant