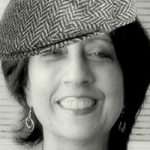 Lata Jagtiani
Lata Jagtiani has an MA in English Literature. She has authored seven books:
Temple Bells and Other Stories, Bhagavad Gita in 365 Days, Towards Light, Sindhi Reflections, Mumbai Terror Attacks, O P Nayyar, King of Melody
and
Dada's Wisdom
. She has also been a lecturer in English in Mumbai and Dubai colleges. Over the years, several articles and book reviews penned by her have been published by newspapers including
The Times of India, DNA
and
The Pioneer
. She loves nature, books, music and films.
Lata Jagtiani lives in Mumbai, and can be reached via email at
[email protected]
Guide, the Film: Perspectives was born from the urge of a few Guide lovers to redefine and analyse the extraordinariness of the cult film. In this collection of essays, the fourteen writers led by Lata Jagtiani attempt to focus on different aspects of the film, even if there are overlaps, which are inevitable in a project such as this.
The Partition of India for Hindu Sindhis was a devastating experience because, unlike Bengal and Punjab which were split, Sindh in toto became part of Islamic Pak. This meant the loss of land and the loss of the Hindu Sindhi identity as well.
This book is a collection of 140 first hand accounts of those who were part of the giant exodus from their homeland and how they rebuilt their lives.