"Give children toys that are powered by their imagination, not by batteries"—H. Jackson Brown
Children's untamed and wonder-filled minds possess a remarkable and valuable gift, i.e., the gift of imagination. When given proper care and encouragement, their bubbling creativity can be transformed into a mighty instrument that shapes the future of our world.
Each child has the potential to perform unfathomable tasks that will build a better society if provided with the appropriate opportunities.
However, in our modern era, the boundless potential of children is often overshadowed by the all-consuming presence of technology. Mobile phones, PC, TV, PlayStation, Xbox, etc. have taken hold of the younger generation's attention, leaving little room for the organic development of their imaginative faculties.
As conscientious grown-ups, we may wonder: what action should we take? Is there anything we can do to help the situation? Well, don't you worry! Blue Pencil has brought the right solution to your doorstep — Books for Kids by Kids!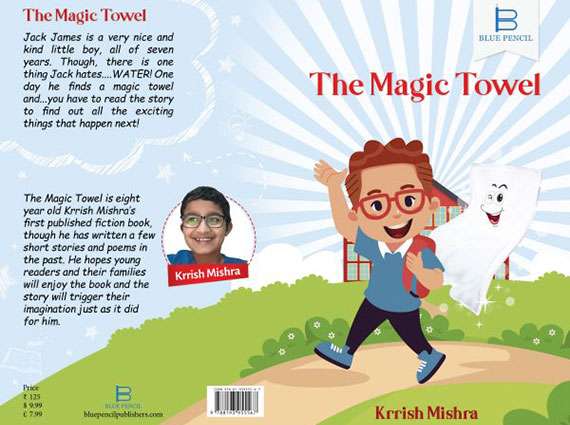 Our "Young Authors" initiative provides a gateway for children to unleash their boundless imaginations and explore the limitless possibilities of their minds. It is a platform where their creative musings can run wild and free, unrestricted by the limitations of technology.
Understand Children's Interests
The most authentic and relatable tales often spring forth from the pens of the young ones, reflecting their unique perspectives and passions.
Yet, to cultivate their creative capabilities and hone their craft, we must first ignite a spark of excitement and enthusiasm for writing within their hearts.
Here at Blue Pencil, we foster an atmosphere that inspires them to put pen to paper, fuelled by collaborative efforts that align with their interests. This approach encourages their creative impulses to flourish and flourish, resulting in written works that are creative and captivating.
Refine the Writing Skills of Young Authors 
We aim to guide the kids to view writing as a thrilling pursuit, not a dull and dreaded task. With a team of renowned authors having impeccable backgrounds in English Creative Writing, we enable kids to realize their full potential.
We also encourage children to write by assisting them with the essential guidance and tools to polish their writing skills. The in-house editorial team provides proper editorial support with the structure, development of the various characters, and proofreading.
Create Books That Resonate with Children
Books written by kids for kids can have a more significant influence on the younger generation.
By motivating kid authors to write books on children, Blue Pencil aims to create quality books that little readers can relate to more than books written by adult authors on children. After all, kids appreciate the nuances of their age group better than adults.
Welcome Creative Inputs from Kid Authors
Kids should feel involved and engaged in their creative endeavours. Thus, once the manuscript is all set for illustrations, we encourage creative inputs from the kid authors. This collaborative process makes them feel an active part of the entire project and enhances their creativity further.
What We Offer
Blue Pencil is committed to offering 360-degree editorial support for all writing projects. We offer our young writers the proper support and guidance to publish books that echo more with children and encourage them to read and write more.
We appreciate the creative inputs of our little authors to ensure that the writing process is exciting and fun for them. We are proud and thrilled to have a growing list of young authors who have enticed thousands of young readers through their impeccable writing skills and creativity.
More Must Reads on Blue Pencil
Why Do You Need a Professional Editor?
The Canine Chronicles | Excerpt in Telekids
Self-publish your Book, Reach Your Readers and Gain Access to a World of Infinite Possibilities
Abhimanshu is a digital content writer with a passion for crafting engaging, informative, and impactful content. With years of experience under his belt, he specializes in creating content that resonates with audiences across various niches and industries.
With a passion for writing, Abhimanshu has earned qualifications in both NET and GATE, cementing his status as a skilled and knowledgeable writer. His literary talents are diverse, with a particular fondness for engaging travel articles, insightful book reviews, and literary criticism across various genres.