Foreword by Shyam Benegal
Special note by Atanu Ghosh
Published : 2021
Binding : Hardbound ( 7.5″ x 5″)
Pages : 84 + 8 photo pages
ISBN: 978-81-943921-1-8
Available Worldwide on Amazon in Kindle & Hardcover: India | USA | Canada | UK | Germany | France | Spain | Italy | Netherlands | Japan | Mexico |  Australia |
Also available on Barnes and Noble
For the last six decades Soumitra Chatterjee has been revered, followed, worshipped – he had been a way of life, for many. There is no doubt that he is a product of our time, our culture for over half a century. Yet, he knew the secret to transcend time and culture in the most magical way.
Probably he approached life with openness and generosity which is why he seemed transparent, yet arty. He could sport naturalism as his ego, less judgmental and hungry. Fastidious about his own art he was liberal to concepts, who perfected a sense of emotional detachment in order to engage himself in a mental and esoteric travel to other eras, other moments in history.
The idea of this book stems from the many discussions the author had with Soumitra Chatterjee for over the last few years. This is not a biography. Nor a hagiography of a bright star of the collective mental sky.
The book holds the author's many anxieties, questions, hazy perceptions and unresolved miseries. In the discussions, there have been some common themes – separation, return, fear and death. Then painting, poetry, reading. The themes repeat though not in this same order.
Just like a good cinema must reflect some good shots, a good writing must also leave behind, apart from others, a few good sentences. The silent steals, the distant murmurs, the broken dreams. A memoir needs to teem with unfulfilled love, the moments of grief and pain. And silence.
This book is written in the present tense throughout. In discussions of soul time freezes, fleets and flies. In these we probe the boundaries of words. What is left to thinking if there aren't words as friezes?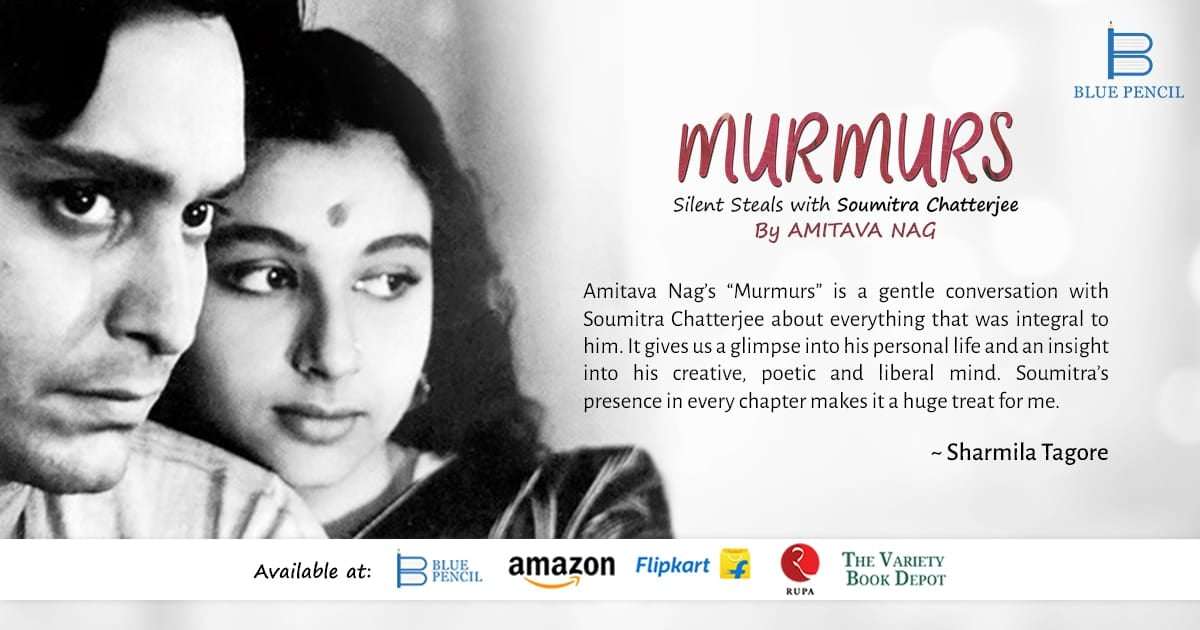 For glimpses into the book, read the previews here:
Murmurs: Moments with Soumitra Chatterjee (Episode 1)
Murmurs: Moments with Soumitra Chatterjee (Episode 2)
Murmurs: Moments with Soumitra Chatterjee (Episode 3)
Murmurs: Moments with Soumitra Chatterjee (Episode 4)
Murmurs: Moments with Soumitra Chatterjee (Episode 5)
Murmurs: Moments with Soumitra Chatterjee (Episode 6)
Murmurs: Moments with Soumitra Chatterjee (Episode 7)
Murmurs: Moments with Soumitra Chatterjee (Episode 8)
Murmurs is listed on Goodreads