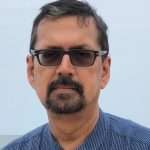 Gopal Lahiri
Gopal Lahiri is a Kolkata-based bilingual poet, critic, editor, writer and translator with 22 books published mostly (13) in English and a few (8) in Bengali, including three jointly edited books. His poetry is also published across various anthologies as well as in eminent journals of India and abroad. He has been invited in various poetry festivals including World Congress of Poets recently held in India. He is published in 12 countries and his poems are translated in 12 languages. He is the recipient of the Poet of the Year Award in Destiny Poets, UK, 2016, Setu Excellence Award, 2020, Pittsburgh, US and Indology Life-Time Achievement award, West Bengal, India.
When two poets – one from Kolkata and the other from Kashmir, merge their poetic voices together, believe me, one starts believing in magic! The City of Joy, Kolkata, proud of its lineage, pulsates and throbs, juxtaposed exquisitely next to the Paradise on earth, Kashmir, equally proud of its lineage. The Dal Lake, and Prinsep Ghat shimmer in golden hues as the twin pens script a saga of beauty and peace.
Incomparable Sachin Dev Burman is a personal and in-depth overview of an all-time great maestro of the Indian subcontinent. Written by HQ Chowdhury, this acclaimed biography has been a rich resource for scholars, writers and lovers of modern Bengali songs, Hindi film songs and vintage Bollywood films.