Our Team
Antara Nanda Mondal
Antara is the Editor in Chief of Learning and Creativity and Consulting Editor of Silhouette Magazine. As a professional business journalist, Antara spent 14 years covering business stories but alongside kept alive her passion for writing on cinema. She writes extensively on the changing trends of music, direction and filmmaking in cinema and her articles aim to provide well-researched, complete and accurate information on the legends of cinema for the movie and music enthusiast. She is a seasoned editor and has edited the Blue Pencil publications Effective Parenting – A New Paradigm and Incomparable Sachin Dev Burman. Her articles have also been published in Dearcinema.com and Du-kool.com. She works as Editor-Creative Director of Wisitech InfoSolutions Pvt. Ltd, the parent company of Blue Pencil. She lives in New Delhi.
Amitava Nag
Amitava Nag is an independent film scholar and critic. He has been writing extensively on cinema since 1999 in The Hindu, The Wire, News18.com, Outlook, CNN-IBN Live, The Statesman, Deep Focus and Himal Southasian, to name a few. He has also been writing and editing the film magazine, Silhouette, for seventeen years.
Nag has authored books on cinema, including Satyajit Ray's Heroes and Heroines, Beyond Apu–20 Favourite Film Roles of Soumitra Chatterjee and Reading the Silhouette: Collection of Writings on Selected Indian Films. He also writes poetry and short fiction both in Bengali and English. His first collection of short stories in English and Bengali are Radha and Atma Abamanana Bishayak Ek-Dui Katha, respectively, apart from a collection of poetry, Kichhuta Sindur Bakita Golap.
He lives in Kolkata.
Monica Kar
Monica Kar has her BA in English Literature from the University of Delhi. She now lives in St. Charles, Missouri, USA, where she wears many hats. While she has worked in Publishing, Retail, Education and Construction in various roles, she has been a free-lance editor since 1987. In 2015 she started writing about her first passion – Hindi film songs of the Golden Age for an online music group. She welcomes suggestions and critiques on her writing as it makes her learn and grow as a writer.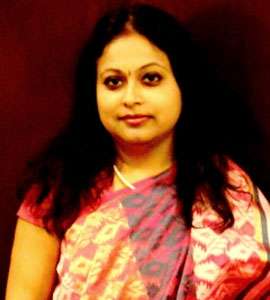 Lopamudra Banerjee
Lopamudra Banerjee is an Indian-Bengali poet and author living in Texas, USA. She is the author of the Journey Awards 2015 winning memoir 'Thwarted Escape', and the critically acclaimed poetry collection 'Woman And Her Muse'. She has translated Nobel laureate Tagore's selected works of fiction as 'The Broken Home And Other Stories' and two dramas of Tagore, 'Tales of Transformation' (English translation of Tagore's Chitrangada and Chandalika). Among her latest works are a poetry film in collaboration with two other poets (under production) and an anthology on gender violence titled 'Muffled Moans Unleashed' (as co-editor). Lopa has jointly edited the Blue Pencil publication Darkness There But Something More with Dr Santosh Bakaya.
A recipient of the Woman Achiever Award 2018 instituted by International Women's Short Film Festival, The Reuel International Prize for poetry (2017) and for translation (2016), she wears many hats. She is also a featured poet performing poetry/spoken words in Texas (at Dark Moon Poetry, Houston PoetryFest, In The Words of a Sistah: Becoming which is the longest running all-female poetry show in USA, among others).
Peeyush Sharma
Multi-lingual, dedicated to business development and a skilled sales and marketing negotiator, Peeyush takes pleasure in assisting businesses to gain a broader footprint in the competitive markets in which they operate. He is VP, Business Development & International Marketing, North America in Wisitech. Peeyush is known to be a collector of music and information pertaining to Indian cinema (majorly Hindi) spanning a period from early 1930s to 1980s. He has a large collection of Bengali and Punjabi music and a huge library of related material. Peeyush has delivered talks and lectures on music appreciation, contributed write ups in numerous news papers and magazines. He has co-authored a tribute publication on Anil Biswas as well. He has co-hosted radio talk shows on music and met and interviewed a number of personalities. Occasionally, he delivers talks even now. Peeyush has been the founder secretary of the prestigious, Vintage Hindi Music Lovers Association in Bangalore that honored Anil Biswas in 1985. He is known as a storehouse of old Hindi music and information regarding music and movies. He is Consulting Editor, Learning and Creativity and Silhouette Magazine.
Madhu Verma
With years of rich experience in HR and Finance Management, Madhu gets the best out of the people and processes at Blue Pencil.
Madhu is the COO of Wisitech and an efficient manager responsible for recommendations and formulation of company policies and consistent implementation in all areas. Madhu has worked in Bharti Cellular, Jet Airways and Silvia Apparel before joining Wisitech. She ensures that the solutions given to all clients & end users are best in quality with value added services and evolves dynamic HR strategies and processes with vision of retaining valuable human resource assets for the career growth of team and organization as a whole. She lives in Ghaziabad, near Delhi.