Our Team
Amitava Nag
Amitava Nag is an independent film scholar and critic. He has been writing extensively on cinema since 1999 in The Hindu, The Wire, News18.com, Outlook, CNN-IBN Live, The Statesman, Deep Focus and Himal Southasian, to name a few. He has also been writing and editing the film magazine, Silhouette, for seventeen years.
Nag has authored books on cinema, including the acclaimed books Satyajit Ray's Heroes and Heroines published by Rupa and Beyond Apu: 20 Favourite film roles of Soumitra Chatterjee published by Harper Collins India and Reading the Silhouette: Collection of Writings on Selected Indian Films. His most recent books on cinema are 16 Frames, Smriti Sattwa o Cinema and in 2021, Murmurs: Silent Steals with Soumitra Chatterjee, published by Blue Pencil.
He also writes poetry and short fiction both in Bengali and English. His first collection of short stories in English and Bengali are Radha and Atma Abamanana Bishayak Ek-Dui Katha, respectively, apart from a collection of poetry, Kichhuta Sindur Bakita Golap.
He lives in Kolkata.
Prabuddha Sircar
Prabuddha Sircar is known for his contribution to the world of print publishing. Starting his career in 1974 with Macmillan Co. of India, he had long and successful stints in leading publishing houses such as Oxford University Press and National Book Trust (NBT) and returned to Macmillan as Head of the Pre-Press Division. Sircar advises Blue Pencil team on production, design and quality issues.
Ramendra Kumar
Ramendra Kumar (Ramen) is a children's writer with 38 books to his name. He has won 34 awards in the competition for writers of children's literature organised by Children's Book Trust (CBT), over the years. He also dabbles in satire, poetry, fiction and travelogues. His writings have been translated into 15 Indian and 14 foreign languages and have also found a place in text books, as well as national and international anthologies. A much sought after inspirational speaker and story teller, Ramen has been invited to participate in several conferences and festivals. These include the IBBY Congress of Children's Writers in Denmark (2008) & Greece (2018) and Sharjah Children's Reading Festival (2019), apart from many literary events across the country. In the Congress held in Greece he was the only writer from India to be invited to chair two sessions. An Engineer and an MBA, Ramen is former General Manager & Chief of Communications, SAIL, Rourkela Steel Plant. He is the father of two children who are bonsai celebrities in their own right. While Ankita is a youth icon and a travel blogger with an Instagram following of 76K, Aniket creates cool Apps and designs covers for his Dad's books. His website is www.ramendra.in
Monica Kar
Monica Kar has her BA in English Literature from the University of Delhi. She now lives in St. Charles, Missouri, USA, where she wears many hats. While she has worked in Publishing, Retail, Education and Construction in various roles, she has been a free-lance editor since 1987. In 2015 she started writing about her first passion – Hindi film songs of the Golden Age for an online music group. She welcomes suggestions and critiques on her writing as it makes her learn and grow as a writer.
Madhu Verma
With years of rich experience in HR and Finance Management, Madhu gets the best out of the people and processes at Blue Pencil.
Madhu is the COO of Wisitech and an efficient manager responsible for recommendations and formulation of company policies and consistent implementation in all areas. Madhu has worked in Bharti Cellular, Jet Airways and Silvia Apparel before joining Wisitech. She ensures that the solutions given to all clients & end users are best in quality with value added services and evolves dynamic HR strategies and processes with vision of retaining valuable human resource assets for the career growth of team and organization as a whole. She lives in Ghaziabad, near Delhi.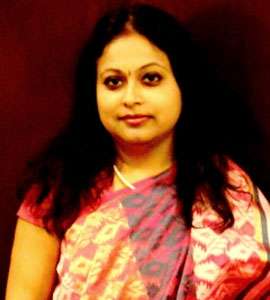 Lopamudra Banerjee
Lopamudra Banerjee is an Indian-Bengali poet and author living in Texas, USA. She is the author of the Journey Awards 2015 winning memoir 'Thwarted Escape', and the critically acclaimed poetry collection 'Woman And Her Muse'. She has translated Nobel laureate Tagore's selected works of fiction as 'The Broken Home And Other Stories' and two dramas of Tagore, 'Tales of Transformation' (English translation of Tagore's Chitrangada and Chandalika). Among her latest works are a poetry film in collaboration with two other poets (under production) and an anthology on gender violence titled 'Muffled Moans Unleashed' (as co-editor). Lopa has jointly edited the Blue Pencil publication Darkness There But Something More with Dr Santosh Bakaya, Muffled Moans Unleashed, the anthology on abuse and gender violence and also Cloudburst: The Womanly Deluge. Among several single author works, she has edited Sarmita Dey's debut fiction work A New Lease of Life, The Lively Library by Niranjan Navalgund, Rhiti Bose's upcoming novel A Wish for the Past and is currently editing debut author Trishna Saha's novel The Abandoned Fighter which will be the first part of a book series.
A recipient of the Woman Achiever Award 2018 instituted by International Women's Short Film Festival, The Reuel International Prize for poetry (2017) and for translation (2016), she wears many hats. She is also a featured poet performing poetry/spoken words in Texas (at Dark Moon Poetry, Houston PoetryFest, In The Words of a Sistah: Becoming which is the longest running all-female poetry show in USA, among others). She is an adjunct faculty of Creative Writing at Dallas College, Texas, and a visiting faculty of memoir and nonfiction writing at Texas Christian University.